Great Neck North Senior High School
Class Of 1961
In Memory
Lois Rose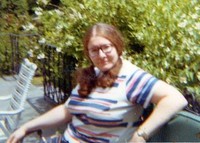 Lois Rose, sister to Jay and Naomi, passed away in the early 1980s. She was a computer pioneer, touring the country to explain systems principles to programmers, an artist, and a musician. She is much missed.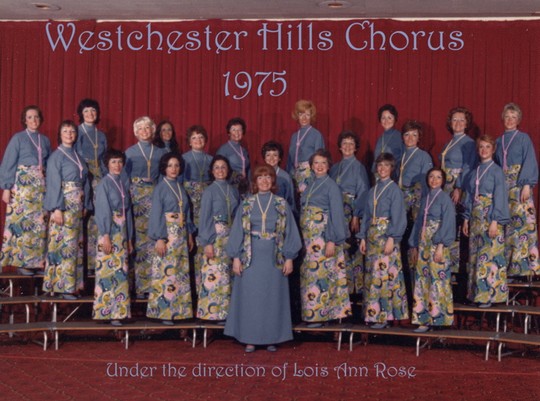 An Appreciation
with additional photos
by Naomi Rose February 2007
My parents were 40 when I was born, my brother 10 and my sister 15. And this was towards the end of the time when teen girls were encouraged to prepare for being a wife and mother. Add to that the fact that my mother, as good a mom as she was, was an emotional cold fish, and my sister ended up taking care of me more than half the time for at least my first 3 years until she went off to Brandeis to become a Beatnik. Actually she started of as an art major, (I have some of her paintings hanging in my house, unfortunately, there's too much stuff in front of one of them) but changed majors several times before graduating.
After she moved out, she visited almost every weekend. She taught me to play guitar, helped me with homework, taught me beauty tips (like using my head as one big roller to get my wavy hair straight), taught me Backgammon and Go and other games. Here we are together in 1968 (or thereabouts)
I always looked up to her, and as I got older (into my teens) I more and more wanted to emulate her. She started with AT&T as an oversees operator, eventually become a very successful System Analyst. She then moved to a company that specialized in helping other companies with their fledging computer departments. They sent her all over the country, teaching, lecturing, seminaring (yes, it's a word, because I say so)
During one of these trips in '77 or '78, she was in the hotel restaurant one morning, having trouble getting the waitress' attention. Finally the gal came over and apologized, stating that the gentlemen at another table were in a hurry to get to a seminar's key note speaker. My sister fixed eyes with the waitress and said "did it ever occur to you that maybe I'm the keynote speaker?" Her meal was on the house.
She was also very involved with Sweet Adelines, even directing a small chorus for a year or two.
In 1976, she had a melanoma removed from her upper back. She'd been a sun bunny most of her life, even chipping in with some college friends to rent a house in the Hamptons for a few summers (I was never invited, tho ) and this was the price. The doc told her that they had to take out a lot of lymph nodes but that the outermost ones were clean. He also suggested, but did not insist, that she do follow up radiation and chemo. She declined because she didn't want it to interfere with her upcoming trip to Europe.
Fast forward to Thanksgiving 1979. I was already home from school for the weekend, and she called before leaving her place. She said she'd been all kinds of nauseous with vicious headaches lately but had it under control and here was the route she was taking, in case she didn't show up in a reasonable amount of time, to come look for her, because she'd be on the side of the road somewhere, puking.
She showed up not too late, looking a little worse for wear; she'd thrown up in the car, but managed to clean up and felt better, so she continued on to us. Friday that weekend, mom took her to the doc to try to find out what was wrong. He examined her, and looked into her eye*. He didn't like what he saw and told her to see her own doctor on Monday. The rest of the weekend was uneventful. She slept thru her appointment on Monday, but saw the doc on Tuesday - he immediately sent her to the oncologist. The same melanoma had found its way to her brain. They took it out and she moved in with us to be near an excellent hospital for the follow up radiation and chemo. The prognosis was fair to good, depending on how she responded to the chemo. But over the next year, little tumors kept popping up all over the place. most were removed, but finally, a rather large one in her brain was declared inoperable, so all we could do was wait. Between the tumor messing with her motor skills and speech centers, and the chemo making her very ill and cranky, it was a wearying year. And I did not handle it well at all. I was only 22, basically fresh out of college and working for my dad. It was hard to watch my sister, whom I looked to as a second mother, deteriorate like that. When she left us in March'81, I was devistated. It changed me and I started acting out and behaving in very destructive ways. I couldn't wait to move out of my parents' house. I didn't blame them, I blamed the doc from 1976 who did not require the follow up treatment. But I couldn't live with them anymore because they had changed, having lost their first born. I eventually got therapy and snapped out of it to be who I am today, but that experience will always be with me. Not a day goes by that I don't think of her or miss her.
* I find it amazing that doctors can tell so much just by looking at the back of the eye.