Great Neck North Senior High School
Class Of 1961
50th REUNION
50th High School Reunion 10/22/11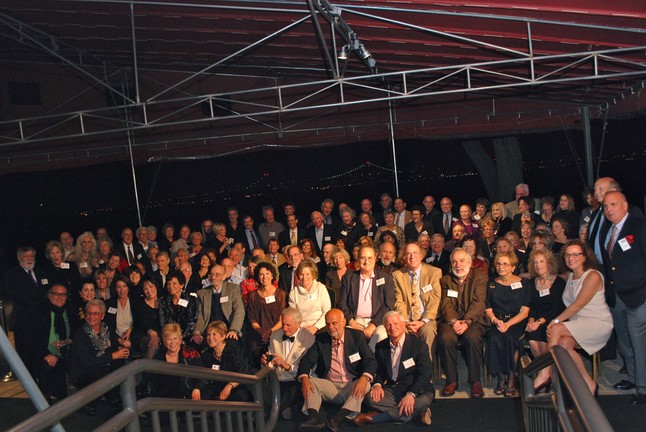 (Right click on the photo to download a copy)
Don't let the memories fade too fast. Send us your comments, we'll post them here. Any ideas for future ways we can meet? This is your space to fill.......we welcome any suggestions. You can help plan "What's Next."
COMMENTS APPEAR BELOW:
I have found that when "they" say you can't go back, you can!! I have gone from kindergarten including Beth Fishman, Susan Talent, Tina Jacobson, Judy Friedman and me to EM Baker, Arrandale, camp, teen tour, high school, old homestead, college, family, Chappaqua, NYC, all in one week!!! I'm still saturated, but I must say my thoughts keep coming back to the inclusiveness, joy, and love that permeated the week end in Great Neck. (Janet Zelinka Greenman)
One hundred 'Thank Yous' couldn't express my appreciation to join your 50th class celebration. Yes, the faces were quite different years ago but many were very kind to recall whether or not they were in my class or on my track or cross country team. Mike Penchina and Nate Taylor were two I had no trouble identifying. I received many nice compliments. Some took me for being a member of the 61 class. I was very flattered and beamed with a youthful smile. Even though I missed the dinner Saturday night I was very content to talk to so many at the cocktail party. As a teacher you always wonder if you made any impression on your students. I was kindly rewarded by some saying our relationship was relaxed, friendly and fun. Joan you said you had some assistance putting this reunion together but I bet you played the major part in organizing everything. You did an exceptional job. The information on the web site was invaluable. Will it be something that will be maintained? Once again I must say I had a delightful time and maybe (just maybe) you'll have a 55th or 60th reunion and I'll get an invitation. My very best wishes for many happy years ahead. Carl Ring
Great event. Very strange seeing all those folks after 50 years. Most
looked pretty good. Brought back many memories--mostly good. And most
of the people didn't change that much personality-wise. Again--a
wonderful job enjoyed by everyone with memories to last a lifetime. PS
I was very impressed by the facility and the service.
(Howard Schachter)

It was one of the most memorable events in my life
and I am bowled over by the thought and planning that went into it.
(Ellen Rappaport Schure)
The reunion went so far beyond my wildest expectations.
People were really really nice - and it was more than fascinating to see everyone and get a chance to talk...(Joel Sussman)
I am forever in your debt for all that you (and the committee) did to facilitate this past weekend. There are no words to describe just how wonderful it was to see and be seen by everyone again - without the typical high school angst! (Carol Bernstein Nimetz)
You and those who assisted you did a really wonderful thing. It was affirming to see so many of our class still doing their thing, or other things, and enjoying life with energy and smiles. It also was healthy to be reminded--as we all had to be--that life is fragile and our length of days is uncertain, thus underscoring the importance of moving forward and embracing now whatever it is that interests each of us.
Hi Joan,
1. Thank you very much for the wonderful efforts to make this reunion memorable
2. I greatly appreciate the efforts you made for my attendance
3. Thank you for the list
L. E. Love
"everyone looks great---sorry I missed the reunion" (Lynne Andrews Wiseman)
Thank you for allowing Dick Hirsh and me to do a song. The most fun was rehearsing for an hour Saturday morning at Dick's brother's home on Ash Drive -- 3 blocks from where I grew up on Cedar Drive. We tried some old "chestnuts" that we actually remembered and which sounded pretty good. Maybe we can build in a bit more additional time at some future reunion event, G-d willing. (Ken Bardach)
In answer to your question, how does one do justice to summarizing three intensive days of activities into a few short paragraphs which is all that I have time for right now?
I think it's impossible -- at least beyond my capabilities. What hits me most, by way of summary, is joy and gratitude. Joy and gratitude that I have made it this far without serious health problems or loss of mind. Joy and gratitude that I could go back to my roots to re-engage with Wadsworthian "spots of time" from childhood, reliving many memories but incapable of re-experiencing the intensity of the feelings.
Joyful and grateful to see many friends I had known, to make some new friendships of classmates I didn't know very well and with some partners of those I did.
Joyful and grateful to still be able to sing, and with some effort, remember long-lost melodies and lyrics; to have the opportunity to sing an old folk song with my high school friend, Dick Hirsh, during the reunion dinner.
Joyful and grateful to have heard Bruce Wolf's talk which reminded us we are all "winners" if we gave honestly of ourselves to family, friends, and the community as a whole.
Joyful and grateful to have been able to listen to people in pain; to commiserate with them hopefully with kindness and love, and to offer hope whenever possible. (Ken Bardach)
From the photos it looks as though everyone had a fabulous time!
What an event!! Congratulations to you and all who put it together.
(Peggy Topf Schwartz)
I'm so glad that I was there to celebrate a very nostalgic evening. (Christina Peters Bransfield)
Congratulations for putting on an incredible, meaningful, warm, affectionate life event! So many thanks. (Barbara Bottner)
It is so nice to know that Great Neck produced a group of adults who continue to make us proud.
Coming back to Great Neck for many was also a tonic. Whereas growing up here may have been a difficult pill for some, we were all able to use our backgrounds to enhance our lives. (Diane Godlis/Philips Cohen)


"Even better than I expected! Incredible event orchestration" (Karen Fish Sands)
The weekend was a triumph from every perspective. (Larry Finch)
"I had such a great time. It was over the top!!!" (Josephine (Cookie) Borza Coyle)
Thank you for arranging an incredible reunion weekend. I loved it and it appeared that everyone else did also. What a nice group we were and are today. Everyone was so friendly and accomplished and had so much fun re-acquainting. (Noelle Kramer Parket)
It was real pleasure to attend. Kudos (Butch Miller)
It was a wonderful, wonderful celebration. A real party!! Thank you. Thank you. (Nancy